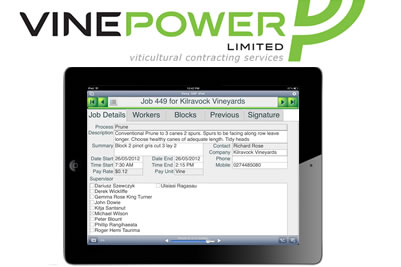 VinePower are the leading viticulture subcontractors in the Marlborough region, providing on site labour teams to a large proportion of the areas vineyards. In a tight market, in the teeth of the recession, Jono Bushell took the brave decision to invest in an IT project that he believed would make significant productivity gains:
"We approached several software development companies who submitted quotes & models on what our solution could look like. Some were too complicated & some were too expensive. We had to keep focus on the needs of our company & the ability of our Supervisors who would be the end users in the field."
The resultant project, Vinny, features an iPad-based jobbing app for the supervisors out in the field. This is synchronized back at the office at the end of each day and the next day's jobs are uploaded with a single click. The iPad app's interface was carefully designed, tested and modified to suit the user's skill set.
Internally, Vinny's database uses the downloaded data to form the basis of debtor invoices and payroll. Automating this process significantly reduced the paperwork load in the office. The reduction in workload achieved enabled VinePower to reverse it's office processes from Payroll-first to Invoice-first with an appreciable effect on cash flow.
In addition, the massive collation of data enables automatic generation of KPI reports which, over time, VinePower will be able to use to support more efficient labour management practices giving them an important edge in the market place.
"We haven't been disappointed. Vinny is proving to be very effective in reducing data transfer errors, saving time from job completion to invoicing/paying staff and provides valuable data to enable further streamlining of the business.

"We have found the team [at Foundation] to be knowledgable of their product & very resourceful in resolving issues. They are available when we need them & happy to drop what they are doing to deal with any urgent issues."