Total Produce is a buyer's agent working in the Auckland produce markets. Representing a selection of smaller supermarkets, restaurants and retailers; they are the guys that get out of bed and go down to the markets by 4:00 a.m. They buy premium fresh produce in bulk then consolidate individual orders and get them delivered around the city a few hours later. Normally, their working day finishes by midday. It's a fast, low margin, high volume business with little room for error and it's not just potatoes and cabbages. At any given time they have an available stock list of up to 200 SKUs and the prices can fluctuate repeatedly each day. There are multiple price-lists which set both their and their client's prices according to pre-agreed margin strategies. Each week the clients order thousands of different line items.
Since they were a small, start-up with limited resources to support the administration of all of this activity, Total Produce had developed a spreadsheet. While it was a very clever spreadsheet, it needed to be emailed to the clients each night, the clients would complete it and email it back. Once that was done, all the copies were manually consolidated into a single buying sheet. The next day dispatched quantities would be entered into it and then those details would be manually copy typed into Xero to produce invoices. The process was labour-intensive, expensive and open to errors. After hearing first hand from clients about the frustration this caused, they were challenged to provide a better solution and started looking at alternatives.
External consultant, Matthew Anderson, did some research and identified Foundation Data as a custom Xero add-on developer.
Matthew explains:
"We knew we had to provide a better interface for the clients to place their orders but whatever we did had to support our internal processes and also be compatible with Xero and, hopefully, eliminate the double data-handling burden. There are a lot of standard add-ons for Xero but our needs are so specialised, we knew we were looking at a custom solution."
Not only was it a custom-solution, the lead time was very short; the initial contact was made in mid-March and the intended go-live was 1st August!
Matthew Roscoe, director at Foundation, picks up the story:
"It was an interesting project and we wanted to do it, but at the time we were pretty busy and so we actually ended up talking the specification down into what was absolutely essential and manageable by the desired date. We presented this as a phased approach; the non-critical requirements could be supplied in future stages."
What followed is best described as a 'fast and furious' development path that at one point had Phases 1, 1.5, 1.5b and 2 all in production simultaneously. While the process was hardly relaxed, the final result has been an amazing success.
Clients can log on to a secure website and enter their daily orders and returns. When they confirm their order, the pricing is locked in. If they have not finished by 3:30pm, an automatic reminder email is sent. At 4:30 pm a cut-off is reached, non-completed orders are removed and completed orders are consolidated into a single purchasing order which is emailed to the buying officer. The following morning, store staff can assemble each order, recording variances on an iPad app as they work in the store, printing dispatch notes and confirming the orders from the desktop interface. Each week, the daily dispatches and approved credits are consolidated into sales invoices which are then emailed to the clients. A summarised version of each invoice (just 3 line items) is then digitally transferred into Xero, making the accountant very happy!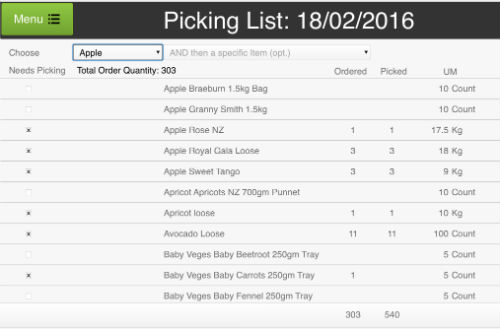 Built in FileMaker technologies the solution includes a cloud-based server, a web interface, desktop interface and iPad interface. The Xero integration is supported by Foundation's own F2X plugin.
Total Produce have achieved their two goals of providing a professional ordering solution to their clients, and dramatically reducing the internal data entry overhead. The solution provides a stable platform for current operations and a basis for future development to meet evolving needs.
Back to Matthew Anderson:
"This project has had a lot of evolution in it's short life so far and we have been delighted with the commitment shown by Foundation and their ability to use FileMaker's capabilities to deliver results. If I look back to our original discussions, what we have now exceeds the original specification and is at the upper end of what we imagined might be possible. The entire solution has been delivered on budget and within the envisaged cost envelope. We are very confident that we have made the right choice and Foundation will be a good support partner going forward."
Thank you to Matthew Anderson.